Pieffepi Vision innovates its product portfolio by introducing the production of human-machine interfaces with touchscreen solutions in Italy. Thanks to our flexibility, we can provide for the same product, customised solutions in the sensory part (PCAP Projected Capacitive touchscreen) and in the cover part.
Customised cover for industrial touch screens
The cover of our solutionstouch screens is customisable in shape, size and thickness. It can also be made of glass, PMMA, polycarbonate and can be printed according to the specifications provided by our customers. The supply of the cover with the sensor can be completed with the relevant TFT, which we are able to provide thanks to an important partnership with one of our loyal suppliers.
For the production of our industrial touch screen systems, we use a 100 square metre clean room, with the aim of providing a working environment that limits the presence of particles thanks to a special air filtration system. Our staff work in the absence of dust and with controlled humidity, temperature and pressure. Our aim is to achieve the best result to achieve maximum customer satisfaction.
Constantly on the cutting edge
Mission and vision have a fundamental importance in defining the goals of a company.
Over the past few years we have set ourselves the goal of modernising our business, starting with our mindset from our knowledge, supporting targeted investments in capital goods and human resources, in order to create more innovative and technological products. Professionalism, dynamism and flexibility are guaranteed by people dedicated to satisfying our customers in every single situation.
Sensor and TFT (display) assembly systems
The assembly of the sensor (PCAP) to the cover is carried out exclusively by the process of optical bondingusing optical films from 3M (OCA), or completely transparent liquid resins (LOCA).
Assembly is automated with a robotic line in a controlled environment (clean room) to ensure perfect process execution.
TFT assembly can take place via two processes: Air Bonding or Optical Bonding.
The process of Air Bonding consists of assembling the TFT to the sensor using 3M double-sided adhesives, applied to the metal frame of the display, which adhere to the sensor.
L'Optical Bonding is the TFT assembly process, automated and carried out in the Clean Room, which allows for no air layers between the cover, sensor and TFT.
This results in a high-quality product even for use in harsh environments. It avoids, for example, the formation of condensation between the TFT and the sensor.
This process reduces the refractive index of light (non-existent air gaps between layers), improves the readability and brightness of the screen, and thus decreases power consumption.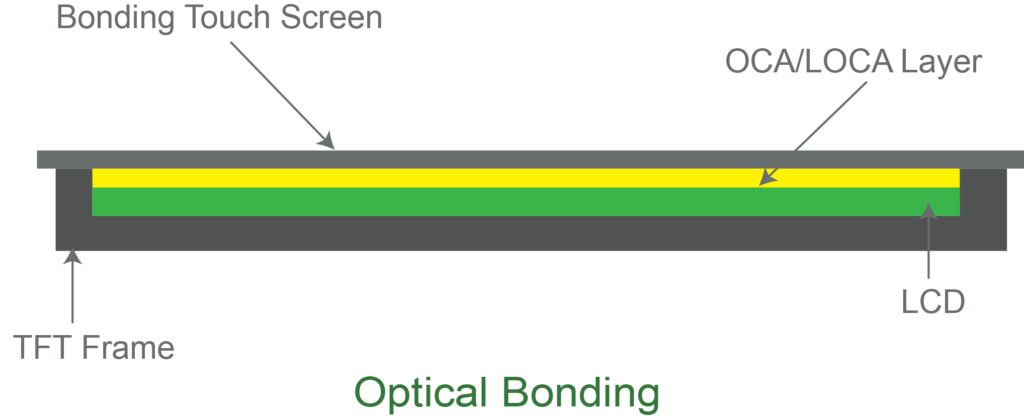 Would you like to request a quote?
Do not hesitate to contact us
Fill in the form and send us your request.
We will respond as soon as possible.